A KOOTENAY LAKE RENTAL COTTAGE
THE GATEHOUSE-ON-THE-POINT
WONDERFUL ACCOMMODATION JUST FOR TWO
Honeymoon Seclusion ~ Getaway Grandeur ~ Uncommon Comfort
LOCATION: This charming and secluded Kootenay Lake cottage rental sits alone, far from the highway, at the entrance to an idyllic lakefront property on the eastern tip of Kootenay Lake's Woodbury Point. It is six minutes north of Ainsworth Hot Springs, B.C. and fifteen minutes south of beautiful Kaslo, B.C.
AMENITIES: An architectural jewel, constructed by a local woodworking artist, the Gatehouse is fully self-contained with a complete galley kitchen and full bath, a wonderful (special) Queen bed, and dramatic lake and mountain views out every window. Radiant floor heating comforts you year around. There is a covered front porch for sitting or dining in the summer, one that looks east and south over trees, to the lake and to the Purcell mountains beyond.
The Gatehouse accommodation is upstairs, on the top floor, above an unoccupied double garage, and out of sight from the main house on the property. There is also a private lakeside deck, down 90 steps along moss covered and flowering cliffs of considerable beauty. This dramatic shoreline, with its steep drop off, also happens to offer some of the best shore fishing to be found on Kootenay Lake. Swimming in the lake is most comfortable between mid-July and mid-August. WiFi connection is installed for use at the Gatehouse, and cell phone web-links also work well in our area.
ACTIVITIES: There are four nearby golf courses, boating, fishing, hiking, river walks, fine birding, mountain biking, glaciers, cross-country skiing and provincial parks, plus the renowned local hot springs (cave and pool) to be enjoyed. All are easily accessible. Here is the perfect vacation hideaway for a deep rest, or for writing, celebration, or renewal.
SPECIAL CONDITIONS OF RENTAL:
The Gatehouse is for one or two Non-Smoking guests only.
Unfortunately, the Gatehouse is not suitable for pets or children, and vice versa.
. . . .While the coronavirus pandemic remains unresolved we will be insisting for a time that renters be free of any symptoms of infectious illness upon arrival at the Gatehouse, and for 5  days prior to arrival, and particularly all during your stay with us. In the event that any part of your rental is denied for reasons of illness, then a full refund for the cancelled nights will be made to you.
SIX BRIEF TESTIMONIALS:
After more than 24 years of renting, there are currently three guest books sitting in the Gatehouse. Most of our guests find them soon after arrival and enjoy reading the comments left therein. And, most elect to add their own lengthy reports before they leave. Here follows a preview, consisting of six brief excerpts drawn from our first book:
"I have been searching for this place ever since my grandmother sold her lake house forty-six years ago . . . ."

"The Gatehouse-on-the-Point is just what we needed and certainly exceeded our expectations."

"We were surprised that a treasure like this, created with so much obvious care and attention, would be shared. We feel privileged to have been guests at the 'Gatehouse-on-the-Point' and [to have enjoyed] your generous hospitality."

"The care and attention you put into building this place is evident everywhere you look, and we truly appreciate it. It inspires us to try and do the same. The stairs down to the lake are particularly wonderful."

"Thank you for helping to make our honeymoon as beautiful, peaceful, relaxing, private, and perfectly romantic as it was. It was a perfect get-away."

"We knew that Canada would surprise people from Holland, but what you gave us in the Gatehouse surmounted [everything] we experienced before. Here we could feel how man and nature can live in harmony."
During three recent years we also listed our Gatehouse with VRBO. Our Gatehouse was reviewed seven times there, and each time it was given enthusiastic Five Star ratings. We stopped listing with VRBO when they stopped allowing links to this website, stopped allowing potential guests any direct contact with us until they committed to booking at VRBO, and started charging our guests 12% more than otherwise they would pay by listing directly with us.
AVAILABILITY: For information about the recent availability status at our Gatehouse, consult our availability page.  Or, you can email us or phone to enquire.
RESERVATIONS require full payment of the first week or portion thereof.
. . .  We generally have long term rentals between mid-June and Labour Day each year. Consequently for that peak time period we generally fill requests for reservations of less than five nights only if five contiguous nights are no longer available between two existing reservations, or, if the requested dates are still open 30 days prior to the planned time of arrival. Normally, reservations of at least two nights are the minimum we require at any time. Three night reservations are our minimum during a few holiday weekends in the off season.
 
. . .  When you place your reservation, we will ask you for the names of you and your partner, your home address and phone number(s), as well as the date of your planned arrival and the number of nights you wish to stay. We will also need your confirmation that you are non-smokers and that you will not be bringing a child or pet with you. Your reservation will be held for up to 5 days while awaiting receipt of your deposit.
CANCELLATION POLICY:
Cancellations occurring at least 21 days prior to arrival will bring a refund of any portion of the deposit in excess of $75 (Canadian). With less than 21 days notice, the refund of any excess deposit greater than $75 will be contingent on the successful rebooking of the cancelled time to others. We recognize that forest fire smoke is an unpredictable current problem for our visitors. Last minute cancellations due to sudden smokey conditions will not be penalized, and deposits will be refunded in full for abandoned nights due to adverse smokey conditions. A particularly good view of any current local smoke, and the local weather, can be found from the nearby tower web cam at this address.
TO RESERVE: Email; or phone.
By email use our contact form.
or Phone (250) 353-7583

CANADIAN MAILING ADDRESS
RR#2, Site #1, Comp. #2, Kaslo, B.C. V0G 1M0
CURRENT RATES AND PAYMENTS: See our rates page for the cost of your stay.
We cannot process credit cards, and so we prefer payments using either an email bank transfer via eINTERAC, or, if time permits, a personal cheque may also be used to pay the required deposit. For those staying more than 7 nights, the balance of the rental is due upon arrival. Payment in U.S. dollars can be arranged. Foreign currency payments can too.
GETTING TO THE GATEHOUSE (located at 4269 Woodbury Village Rd.)
We are reached from Highway 31 running north-south along the west side of the 100 km. (60 miles) long Kootenay Lake, directly above the pointing finger of Idaho. The Gatehouse is 4 hours north of both Spokane, Washington and Coeur d'Alene, Idaho. It is 8.5 hours east of Vancouver (via Hwy 3 & 3A) and 8.5 hours west of Calgary (using Hwys 93 & 3 & 3A). The nearest commercial airport is at Castlegar B.C., 100 km. to the south and west. Rental cars are available at the airport. The nearest large town (and bus depot) is Nelson B.C., 55 km. south and west. There are paved runways for light planes at the small airstrips at both Kaslo and Nelson. Guests may arrange to be met at any of these nearby locations, but a car is generally needed for grocery shopping in Kaslo while staying at the Gatehouse, and, for local sightseeing.
A particularly scenic approach to the Gatehouse is from the southeast up Hwy 3A from Creston and then across Lake Kootenay to Balfour on the longest free ferry in the world (a 35 minute voyage). The Gatehouse is 22 minutes north of Balfour by road. Equally scenic is the dramatic drive along Slocan Lake to the west, then east on Hwy 31A at New Denver to meet the pristine Kaslo River at the summit and there follow it down to Kaslo and Kootenay Lake.
The directions to 4269 Woodbury Village Rd. differ depending on whether you are arriving southbound from Kaslo or northbound from Balfour. We will provide detailed directions when we confirm your reservation.
RENTAL SEASON: Available all year.
YOUR HOSTS:  Barney Gilmore & Lorraine Symmes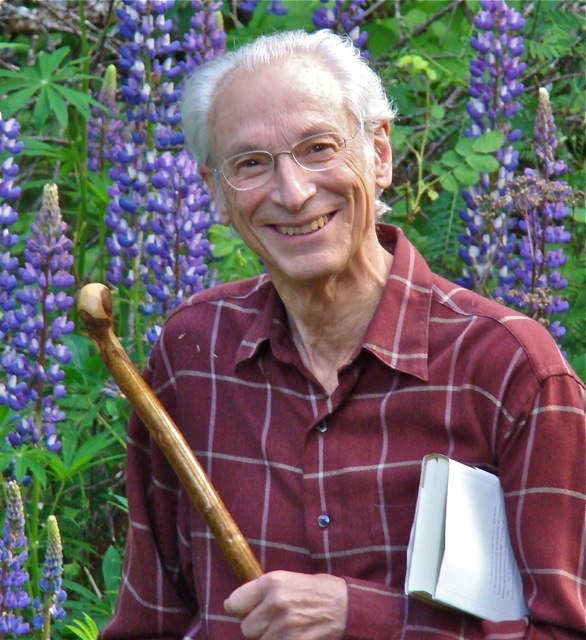 Barney is a retired professor of psychology and is the author of three books. His second book is entitled On Retirements: Playing Seriously with the Work of Growing Older [BPS Books (2010)]. In 1987 he was named the Canadian Professor of the Year. The Gatehouse was the cabin/home to which he retired and where he lived until the main house was built on the property. Prior to her own retirement, Barney's wife Lorraine was for many years an executive with Random House Canada.
Both Lorraine and Barney have long been in love with North Kootenay Lake and the artistic communities that this area nourishes. Each of the four seasons around Ainsworth and Kaslo is different, and each offers many new opportunities for recreation, and enjoyment.
The property was originally purchased in 1989 as empty land. That first summer was spent just building the stairs down to the lake, and putting in the foundations of the Gatehouse. In the following two summers the Gatehouse was finished. The main house was built in 1994, and soon after the Gatehouse became a secret treasure for visitors from around the world. Many of our guests have been repeat guests who find the property as special and unique as we do ourselves. Some of them have returned every year for up to six years and have become friends for life.
LOCAL ALTERNATIVE RENTALS FOR MORE THAN TWO PEOPLE.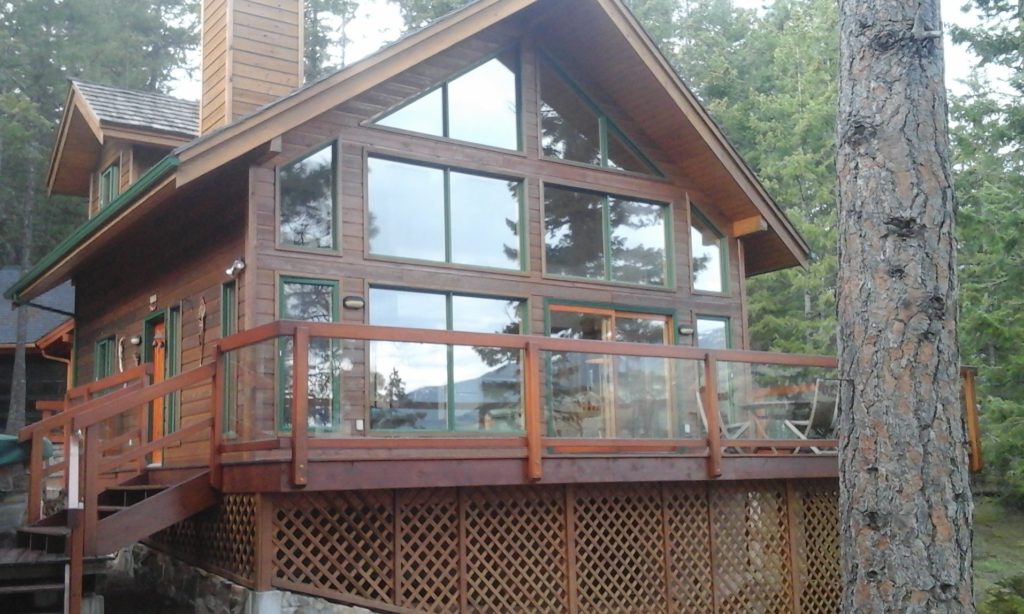 An alternative choice, offering comfort for more than two occupants, is also found here on Woodbury Point. This more spacious two bedroom cabin is owned by our good friends and close neighbours, Lorene and Alex. Click here for information about this rental.
And you can find additional Kootenay rental alternatives without the need to pay any of the extra service fees that are now charged for booking through major commercial websites. Click here for some further local links and details.